Ann Arbor Civil War Round Table
Member Moments Research Topics
Everyone is welcome. The following AACWRT members wish to exchange CW information with visitors sharing similar interests. Several research topics are hyper-linked to sites affiliated with an individual member researcher. Please e-mail information, questions, and suggestions, directly to the member.
Enjoy...
Regimental & Unit History

Tom Nanzig: aacwrt@yahoo.com
3rd Virginia Cavalry, CSA
18th Wisconsin Infantry, USA.
For a summary of Tom's book, The Badax Tigers: From Shiloh to the Surrender with the 18th Wisconsin Volunteers, click here.
----------
Cpl. T. J. Davis, 18th Wisconsin Voluneers, a 'Badax Tiger'

Genealogical Research

Larry Arnold: Larnox@wowway.com
Private Aurilius Arnold
Co.F, 18th Regt. TN Inf, CSA.
----------
1st National Flag, CSA

Events (Big & Small)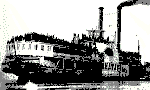 Pam Newhouse: CW1865@aol.com
Sultana Disaster. Pam edits SULTANA REMEMBERED, a quarterly newsletter.
--------
Sultana Prior to Departure

Living History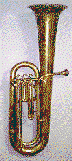 Ellen Oliver Smith:
esmith@madonna.edu
Dodworth Saxhorn Band Board
Music of the Civil War
- Civil War Medicine and Nursing Practices
- Nurse Helen Marie Noye Hoyt. Native of Buffalo,

NY. Married Birney Hoyt who became later

attorney and judge in Grand Rapids, MI.
- MI participation esp. 2nd and 6th MI Cavalry

- Genealogy: getting started on CW relatives

- Costume in the Era of the Hoop

--------

Eb Tuba, c1860.


Ken Baumann: kb64bau@sbcglobal.net
Civil War Artillery
Author of ARMING THE SUCKERS, 1861-65
Have an interest in CW Artillery?
Go to: PBO .
--------
Shells & Cannister.

Copyright © 1997-2009 Michael Gay, 2010 James F. Epperson. All Rights Reserved. Reproduction in any form, in part or in whole is prohibited without written permission. The Webmaster and all past and present officers would like to thank Michael Gay for his work as the AACWRT's first Webmaster.
For additional information, suggestions, or other messages, please contact James F. Epperson
Created during March 1997. Published on March 11, 1997.
Changes last made on January 3, 2010.